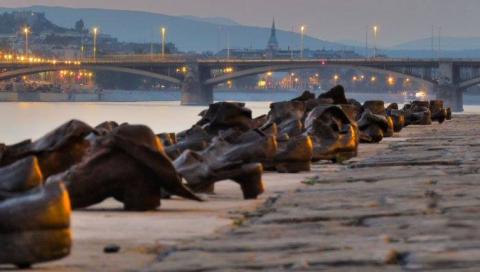 Cast-iron pairs of old shoes placed on the bank of the Danube in Central Budapest in 2001 serve as a "memorial" to the made-up story of a massacre of 20,000 Jews shot into the river by the Arrow Cross militia in 1944. Problem is there are no remains of bodies or of bullets.
---
By Carolyn Yeager
IF A SINGLE BODY WERE FISHED OUT OF THE DANUBE RIVER that could be shown by DNA testing to be that of a Jew from 1944, it would appear in big headlines all over the world: "Victim of Nazi Holocaust massacre discovered!"
But when an official search is undertaken by Israeli authorities and finds nothing, it is ignored by most media outlets, or made into a brief news item quickly forgotten.